The Olympics have officially been postponed, and the new date of the Opening Ceremony is July 23, 2021.
Clearly, it's the right thing to do. I was really hoping it wouldn't happen, but once training facilities began to shut down all over the world, it was inevitable. It wouldn't be safe to hold the Olympics as scheduled if many top athletes wouldn't be able to train and maintain their level of preparation. There was no other choice than to postpone or cancel the Olympics. Thank goodness the IOC opted for postponement rather than cancellation!
Competition Dates
Why set the new dates now? There's been some debate about whether the IOC should have released the updated dates. I think the IOC did the right thing, though, because the athletes and coaches will want to know as soon as they can. Even if they aren't currently training, it gives them extra time to get their training plans established for 2021. It also gives the community the information they need to have the Olympic venues ready on time. And the fans now have something to look forward to, after the disappointment of having the Olympics postponed.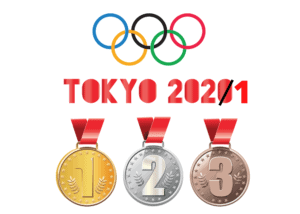 How this affects the athletes
What does the Olympic postponement mean for the athletes? Obviously, it leaves time for the pandemic to wind down and athletes to get back to training. There are several factors that affect the athletes in this situation.
On the positive side, there's more time to add new skills. MyKayla Skinner had noted in this ESPN article that she's been playing around with a triple-double in the gym, and an extra year would give her more time to get it competition-ready. It will also be beneficial for gymnasts like Asuka Teramoto of Japan, who tore her Achilles tendon this year, and would not have been ready in time for a July 2020 Olympics. Now she has an extra year to rehab and get her skills back.
For gymnasts who were planning to retire after the 2020 Olympics, extra time is not necessarily their friend. Hanging on an extra year for an "older" gymnast is even more of a challenge, as they are battling their aging bodies and the stress of another year of flips, twists, and landings. It's possible that the Olympic team could look different next year than it would have this year. A year is a long time in the life of an elite gymnast, and anything can happen.
Additionally, there is a mental toll on the athletes, who need to stay in shape mentally as well as physically. They need an entirely different mindset to stay the course until 2021, when they were expecting to compete this summer. It can be difficult to stay focused when training facilities are closed and gymnasts aren't able to do their regular workouts. Normally, there is a World Championships every year except Olympic years, and this year there is no World Championships scheduled. There will likely be national championships, World Cup qualifiers, and potentially other meets later in the year. There is no date set for anything though, so gymnasts don't know when they will need to peak, both mentally and physically.
FIG Clarifications
What will the Olympic postponement mean for gymnasts who are not age eligible in 2020, but will be eligible in 2021? The FIG just decided that athletes who turn 16 in 2021 WILL be eligible to compete in the Olympics. Personally, I disagree with this decision. The way I see it, this is still the 2020 Olympics, just held a year later. All the parameters should stay the same surrounding this competition. Looking at it that way, it just doesn't seem fair that a gymnast who was always age-eligible could potentially get bumped for a gymnast who shouldn't have been eligible to compete in this Olympics. The number of spots on the team has already decreased this year, from 5 in 2016 to 4 in Tokyo 2020/2021. Now the pool of athletes is larger, and they are competing for fewer spots. It may not end up making a difference, as the new 16-year-olds may not be ready for the Olympics next year. But it is certainly possible, and it doesn't make sense to me why the FIG would make that decision.
What will happen with Olympic qualification? According to the FIG, almost 75% of the spots are already qualified. However, this leaves over 25% of the spots yet to be filled. The Baku World Cup was in progress when it was stopped after the preliminaries on March 13, and the FIG has decided that this competition will not be rescheduled. The preliminary results will be the final results, and will earn qualifying points for the winners. The remaining qualifiers have not been rescheduled yet. The FIG extended the dates for qualifying through June 29, 2021, leaving plenty of room for leeway to schedule these events.
Another question that the FIG recently answered was that the 2021 Olympics will use the same Code of Points that would have been used in 2020. The Code will not change until 2022. Unlike some of the FIG's other decisions, this one does make sense. These gymnasts have been training under this Code for the past four years, and they were planning their routines based on the current Code. It would have been completely inconsistent with the rest of the competitions in this Olympiad for them to change the Code at this point.
The athletes weigh in on the future
What do the athletes think about the Olympic postponement? Inside Gymnastics spoke with a number of gymnasts to get their thoughts. The overall consensus was that the gymnasts were disappointed, but understanding of the decision to postpone. Most of them voiced their determination to find success in Tokyo 2021. Gymnasts are so mentally tough, they will undoubtedly make this new situation work for them. I'm really looking forward to seeing them compete, finally, next year!
And in case the Olympics and lead up events don't provide enough gymnastics for you, the 2021 World Championships in Copenhagen is still scheduled as planned in October 2021. It will be a great year filled with gymnastics!