Wow, what a team final! There were several moments during the final when it seemed like no one was going to be able to put it together to win a medal! In a finals fraught with errors, here are the final results: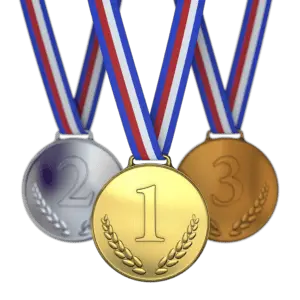 Women's Team
Gold: U.S. — 172.330
Silver: Russia — 166.529
Bronze: Italy — 164.796
4. China — 164.230
5. France — 163.628
6. Great Britain — 161.495
7. Canada — 160.563
8. Netherlands — 159.427
Here are a few thoughts after watching the competition:
United States: It's no surprise that the United States won the gold medal here, as they were the overwhelming favorites before the competition. They extended their streak to five team victories in a row, and Simone Biles became the winningest gymnast in World Championship history, with 21 total medals. This broke the record previously held by Svetlana Khorkina.
The surprise for me was that the U.S. had some errors along the way. Grace McCallum sustained a fall on the bars when she couldn't quite get over the bar on her toe-on full pirouette. Sunisa Lee fell, for the second day in a row, on her BHS-BHS-2 foot layout on the beam. The U.S. appears to be so dominant, but we found out today that even they were not immune to the fall epidemic. However, their difficulty level is so high across the board that the falls were merely a bump on the road to victory. With a margin of victory reaching almost 6 points, they could have fallen several more times and still pulled off the win.
Russia:  I was curious to see how Russia would fare today. They are always a very talented team, but can be inconsistent. They did have to count two falls on beam (Agofonova and Akhaimova), but with many other top teams making large errors, they were still able to claim the silver medal. Look for Russia to continue to challenge for the podium in Tokyo, as they have several talented juniors who will be age-eligible next year.
Italy: Italy's team medal was a surprise for many! They capitalized on the mistakes of other teams, and delivered solid performances throughout the team final. It all came down to the last routine on beam, and Elisa Iorio needed around 11.3 to clinch the medal for Italy. It's not a big score, but it wasn't guaranteed after she fell on her beam mount. She ended up scoring 11.933, and Italy won their first World Championships team medal since 1950.
China: China was expected to win a medal here, but they finished just out of the medals in 4th. Liu Tingting had some unfortunate falls on UB (two falls) and BB, which really hurt their chances. It was really a shame, because the Chinese gymnasts have such beautiful form and execution, and they have really worked to improve their amplitude and difficulty on floor and vault. I especially enjoyed Tang Xijing's triple full-punch front!
France: I really love watching Melanie de Jesus dos Santos. Her form and style are beautiful. She qualified 3rd into the all-around final, so it will be fun to watch her as she challenges for a medal. She'll also be in the beam and floor finals to showcase her artistic talents. Unfortunately I didn't get to see any of the other French gymnasts in the broadcast, so I can't comment on their performances.
Great Britain: Becky Downie's bars is always amazing to watch. I would have loved to see a bit more of the British women's team on TV!
Canada: Ellie Black is such a tough competitor and really enjoyable to watch. Brooklyn Moors' floor is one of the most expressive routines out there!
Netherlands: This team had had some injuries to key gymnasts, notably Sanne Wevers (2016 Olympic beam champ). They were pleased to make team finals and qualify to the Olympics, and I hope everyone can stay healthy on the road to Tokyo!
Side note: After my DVR cut out early, I found the Olympic Channel broadcast online. I absolutely loved listening to the British commentators! They were so charming and positive as they described the athletes' routines, and they always had something good to say about each gymnast. It was very refreshing, and I plan to watch their broadcast again if I can!