Pandemic life has challenged us in many ways. First, most of the country was shut down. Schools were closed. Many businesses were closed, including gymnastics gyms. The end of meet season was cancelled. Gymnasts all over the country, and the world, had to miss their biggest meets.
Now, some parts of the country have opened back up. But life is still far from normal. Some gyms still haven't reopened. We haven't seen a live gymnastics meet in six months. And the big question everyone is asking is, will we get to have a season this year?
Are Gymnastics Meets Allowed This Year?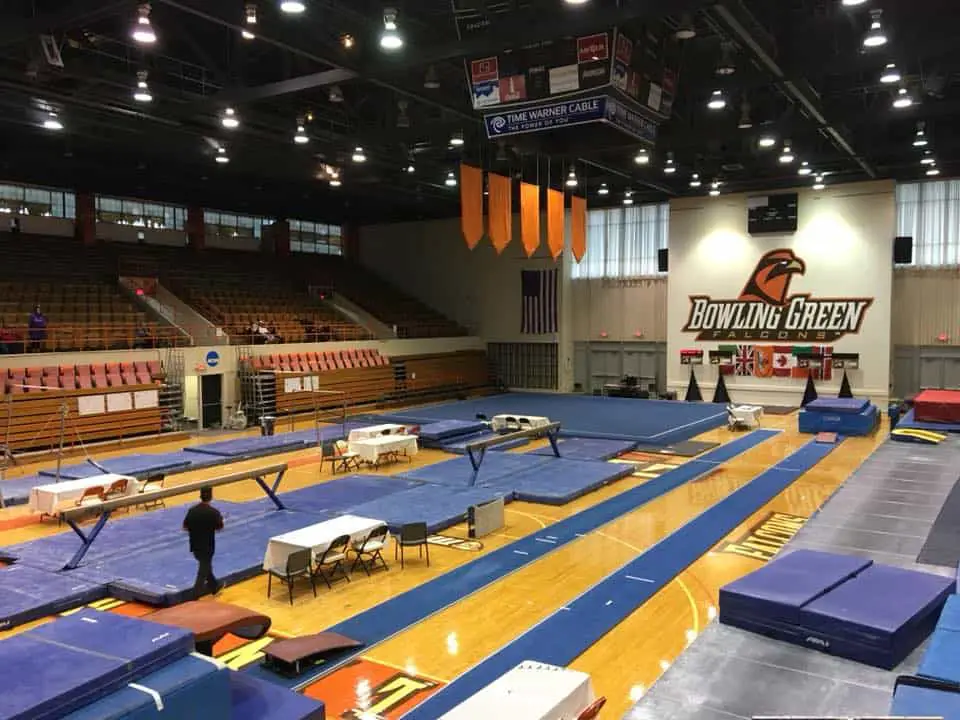 USA Gymnastics has given the green light for gymnastics meets to be sanctioned during the 2020-2021 season. These meets must follow local and state guidelines, whichever is most restrictive. Of course, these guidelines may vary widely depending on the location of the meet. Still, it's good to consider the best practices when preparing to host a gymnastics meet during a pandemic.
Safety Best Practices During a Pandemic
There are many things that we can do, as meet directors, to maximize safety for everyone at the meet. Some of these guidelines may not apply to everyone, so pick and choose the ones that meet your needs. And feel free to add your own, and share in the comments!
Here is a compilation of best practices for hosting a gymnastics meet this season:
Require face masks for all coaches, judges, volunteers, and spectators. Gymnasts should wear a face covering, at minimum, when entering and exiting the facility, and walking around such as to the bathroom. For maximum safety, gymnasts should wear face coverings when they are not on the equipment.
Perform temperature checks at gymnast check-in.
Set up hand sanitizer stations throughout the gym and common areas.
Sanitize equipment between rotations.
Announce rotation between events, rather than continuous rotation.
Clearly mark the traffic flow in common areas.
Mark 6′ distance for people standing in line at check-in or vendors' table.
Consider virtual stores for vendors.
Give all awards to coaches at end of meet, or mail them. Announce winners without having a formal ceremony.
Mark areas for teams to wait on the floor for their events.
If the facility has bleachers or other seating, mark which chairs are available. If not, space chairs at least 6′ apart. Sanitize seating areas between sessions.
Food for coaches and judges should be pre-packaged as much as possible (box lunches, etc). Ensure adequate space for distancing during meals.
Consider smaller sessions, smaller rotations, and/or more time between sessions to minimize the number of people in the facility.
Minimize the number of volunteers in the facility.
Making a Profit Despite the Restrictions
Will meets still be profitable during the pandemic? It's definitely possible to make a profit, although hosts will need to be strategic as they prepare for the meet. Here are some strategies to minimize revenue losses and maximize profit.
Maximize Vendor and Advertising Revenues
Vendors may not all be comfortable attending a meet. If a vendor cannot attend in person, consider a virtual store, in which posters can be displayed and a website is listed for internet sales.
Another way to recoup lost vendor revenue can be through advertising. Consider displaying ads for sponsors, or for vendors who cannot attend the meet. There are many ways in which to display advertising. Ads can be displayed on signs or banners, in a program, or directly on the scoring displays. Vendors who are not able to attend in person might love to purchase advertising space!
To Charge Admission or Not to Charge?
This year, it's best for spectators not to congregate in groups. The entrance to the meet is a common area that spectators will gather, especially if the meet is charging admission. It could be beneficial, both for safety and profits, if admission is not charged at the gate, but collected on the back end through slightly higher entry fees. Do the math, and figure out how much would be lost, per gymnast, without admission fees. Next, raise entry fees to compensate. As an added bonus, families are generally thrilled that they don't have to cough up a wad of cash when entering the meet.
If You Can't Allow Extra Time
Some meets may have the luxury of allowing extra time in between sessions to minimize the number of people in the facility. For many meets, however, this is difficult to manage. It may mean paying extra in judging fees, reducing the number of sessions in a day, or both. If extra time cannot be allotted between sessions, make sure there is a "staging area" in which incoming gymnasts can wait with their teams. This area should have plenty of space to allow teams to distance from each other.
Advertising a Gymnastics Meet During a Pandemic
Even during normal times, advertising a gymnastics meet is vital in order to attract new teams and competitors. A gymnastics meet during a pandemic requires not only advertising, but also clear and consistent communication regarding the event's procedures.
In these times, people will not attend an event if they do not feel safe doing so. Continue to reassure teams that the meet will practice safety first, and send out a list of the procedures that will be followed. The communication to potential attendees must show that their safety is your utmost concern.
It's a good idea to include your meet's COVID-19 procedures in your advertising. Create a list of policies your meet will follow (feel free to take the ones listed above!) and send it out to your list of gym clubs. Communicate early and often, in order to remind people about your amazing event!
Final Thoughts
Hosting a gymnastics meet during a pandemic is not for the faint of heart. There are many factors to consider, and the most important is the safety of all who attend your competition. Some clubs might decide that this is not the year to host a large invitational . Some might decide to host a dual meet in their gym. Still others may choose to wait a year before hosting again. No matter what your club chooses, it will be the right decision for this year. Let's all cross our fingers and hope that meet season will be here before we know it!