So, you've got a child interested in gymnastics? That's fantastic! Gymnastics is a sport that will increase flexibility, total body strength, coordination, and balance. Now, you might be wondering how to choose a gymnastics club. A quick Google search is likely to come up with a few gyms in your local area.
But which gymnastics club is right for you? Great question! Different gyms can have very different approaches to teaching the sport. Take a look at these characteristics of a gym club, and ask plenty of questions! This way, you'll be able to find the club that meets your needs.
Here are the areas you'll want to look at when you choose a gymnastics club.
This post may contain affiliate links. As an Amazon Associate I earn from qualifying purchases.
Gym Philosophy
First and foremost, you'll want to know the philosophy of the gym you're considering. There are different types of gymnastics clubs, and choosing the type that best suits your gymnast will help ensure a positive experience.
Some gyms are focused on developing gymnasts for competition. If you already have a competitive gymnast who wants to beef up their skills, or your gymnast wants to compete seriously, you may want a gym like this.
Some gyms are recreational in nature. If your child isn't likely to want to compete, or you prefer a more relaxed style, this might be the right choice for you.
Some offer mainly classes for preschoolers or younger children. If you're looking for a first gymnastics experience for your young child, this may be a good match for your family.
Once you decide what you're looking for in a gym, you can ask some questions to find out if the gym's philosophy matches your gymnast's needs.
Coaching Staff
A great coaching staff will make or break a gymnastics experience. I would have put coaching first on the list, but great coaching in the wrong environment can still be a recipe for disaster.
So what should you look for in a coach?There are MANY different coaching styles, and what works for one athlete may not work for another. Personally, I would look for coaches who:
Are good communicators
Set clear expectations, and show athletes how to meet them
Break skills down into their parts, and teach them step by step
Have a balance of positive feedback and corrections
Keep the kids engaged in the class/practice
Make learning gymnastics fun!
There should also be a system in place for coaches' education. Find out how the coaches are trained, and what ongoing educational activities are provided. You can also ask if the coaches are members of any professional organizations, such as USA Gymnastics. Some coaches may have an additional certification, but certification isn't a requirement to be a great coach.
Lesson Planning for Classes and Teams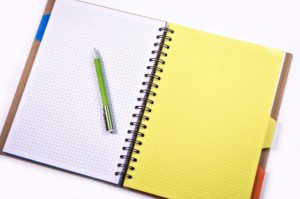 As you're interviewing clubs, ask about their lesson planning procedures. Some clubs do not have a lesson planning policy for their coaches. Other clubs require lesson plans at all levels. Some clubs keep the lesson plans consistent throughout all classes of the same level, and others offer their coaches flexibility to adjust the plans.
Also, you'll want to know what level system will be used at your gymnast's ability level. What types of recreational classes are offered? How many levels are there? What are the criteria to move up to a higher level? What levels of team exist at the gym?
Safety Procedures
Gymnastics is a sport that involves flipping upside down and using equipment that is high in the air. When choosing a gymnastics club, it is imperative to know what safety precautions are in place. You'll want to know how the coaches will keep your athlete safe, and what equipment the club has to keep them safe.
Safety In Coaching
Are instructors and coaches safety certified?
This means that the coach has successfully taken and passed a safety course through USA Gymnastics. All USA Gymnastics professional members are required to take this course, along with a SafeSport certification. The SafeSport course trains coaches in recognizing and preventing abuse in gymnastics.
What's the student to coach ratio?
The more gymnasts in the group, the more difficult it will be for the coach to effectively oversee each gymnast. Smaller class sizes allow for more one-on-one attention from the coach, and closer supervision to ensure skills are learned correctly. Ideally, there should be no more than 8 gymnasts per coach. For younger students, this ratio should be even lower.
How is spotting used to teach new skills?
Spotting involves the coach physically assisting a gymnast to teach proper body position during a skill. Different gyms have differing philosophies on spotting. Some gyms prefer to use a lot of spotting to reinforce proper body positions. Other gyms prefer to have gymnasts perform more repetitions of drills and lead-up skills to develop this body awareness. Talk to the gyms you're considering, and ask about their procedures. Gymnasts should also be taught to fall correctly for each skill they are performing.
Safety in Equipment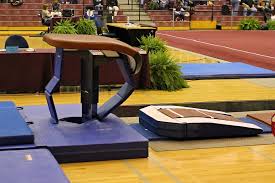 Is there a variety of equipment to assist gymnasts and cushion falls? How often is equipment replaced? What cleaning procedures are used?
Equipment should be clean and in good condition. There should be mats of varying thicknesses for landing different skills and dismounts. There may be additional shapes and sizes of mats designed to teach specific skills, blocks for spotting, and pits for training more difficult skills. If the gym has foam pits, there should be safety procedures in place to prevent injuries in the pit. Regular cleaning should be performed, and good hygiene practices should be enforced in the gym.
Proximity
If you're lucky, there will be more than one gym in your local area that you can choose from. Obviously, a gym that is closer to home will be more convenient. This is especially true if you'll be driving there several days a week, or you have multiple children attending.
However, there may be times when it makes sense to drive further to get to the gym. If the high quality gyms are farther away, you might want to make the drive to improve the quality of your gymnastics experience. It's important to weigh the benefits of the gym you'll be attending versus the costs of more time in the car.
Cost
Gymnastics can be an expensive sport. Not only do you need to factor in the cost of classes, but your gymnast will also need leotards, accessories like water bottles and scrunchies, and eventually she may want some equipment to practice at home. However, this doesn't mean that you should choose the least expensive gym in the area. It's best to find a few gyms that are within your budget, and then compare them based on the other factors mentioned in this article. A gym with well trained coaches and top-of-the-line equipment will usually be more expensive, but the cost is likely worth it. On the other hand, if your potential gymnast isn't quite sure if gymnastics is their sport, you might want to try the less expensive gym, at least while you're deciding if gymnastics is something you'd like to pursue further.
Competitive Team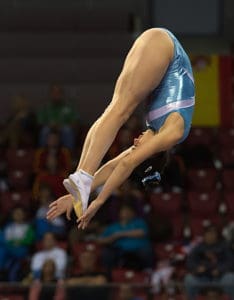 Is there a  competitive team at this gym? If your child is already competing, this will be the most important question.
If your child is not yet competing, but has a goal to be a competitive gymnast, you'll want to ask some questions about the team program.
Types of Competitive Teams
How large is the team?
At which levels do its members compete?
Do they compete in the Developmental Program (DP), the Xcel program, or both?
Which governing body do they compete under: USAG, AAU, or NGA?
Other Team Considerations
What is the team philosophy, and is it consistent with the gym's philosophy? Some teams care a lot about their success and track record, some teams take a more relaxed approach, and there are many that have an "in-between" philosophy. Some gyms will focus on basics for a long period of time, and others will move to more difficult skills more quickly. You'll find that some gyms train athletes for the elite levels, and others do not. Listen carefully to the answers to these questions, and the coaching staff's rationale for their decisions.
How often do they compete? How far away does the team travel? You'll want to know if you'll be flying across the country most weekends throughout the winter.
What percentage of their gymnasts qualify to State, Regionals, and Nationals? If you're looking for a gym that is successful at meets, these percentages should be high.
How many hours per week do the team gymnasts practice? Some gyms practice 20 hours per week at the lower levels, and some practice 4 hours per week. At higher levels, the gymnasts will likely practice even more hours.
The Intangibles
Take a look around the gym. Do the gymnasts look happy? Do the coaches look engaged? Is the staff friendly? Is the facility clean and comfortable?
Ideally, you'll feel welcomed during this first visit, and you'll be wanting to come back again.
A Final Story
Sometimes, you just get a feeling about a gym when you enter it. This feeling could be good, or it could be bad.
Once, I coached at a gym for a week in college. Why only a week? Well, that's a great question.
I interviewed for a job at this gym club one summer. It was a large facility with plenty of equipment, recreational classes, and a decent sized team. On paper, it was a perfect job. Something just felt a bit off, though. I couldn't put my finger on it.
Since there was no reason not to take the job, and I needed the money (let's face it, I was a poor college kid), I accepted the job. I worked there for a week, then over the weekend, I made the 5 hour drive home to visit my family. While I was in my hometown, I was involved in a car accident. It was minor, but I was on crutches for a couple of weeks. I called the gym and told them what had happened, and they were very understanding.
After I returned to school, I called the gym to let them know I was ready to come back. I never heard back from them. I figured that they had filled my position while I was out, and moved on.
Quite some time later, I discovered that the gym had closed down and the owners had fled the state in the middle of the night. I'm still not sure what exactly went down, but I'm gonna go out on a limb and say I dodged a bullet by not going back there.
Moral of the story? Do your research, and trust your instincts. You'll be glad you did.