This post may contain affiliate links. As an Amazon Associate I earn from qualifying purchases.
Stuck at home and can't go to the gym? Want to supplement your practices with some gymnastics homework? Love gymnastics and just can't get enough? If this describes you, you might be thinking about purchasing some home gymnastics equipment.
I surveyed several people who have used and personally recommended several different types of home equipment. Here are some of the fan favorites!
Gymnastics Mats for Home
There are many different types of gymnastics mats. The most common type to use at home is a folding panel mat. This mat is typically around 2″ thick, so it is not soft enough to absorb landings from high surfaces. It works well for light tumbling activities, or for use under a low bar.
Here is an example of a panel mat:
This panel mat comes in a variety of colors and sizes to suit your gymnast and her needs. The most common size is 4'x8′, but there are other sizes as well. Be sure to check the size of your space to know if it will work for you.
Here's another example of a panel mat:
This mat is a little smaller, at 4'x6′, so if you have a smaller space this one may be a better fit. It is still 2″ thick so you would not sacrifice the cushioning of the mat for the smaller size.
Another type of mat is a practice mat, which is thicker and provides more padding in case of a fall. Here is an example of a practice mat:
This practice mat is slightly smaller than the panel mat, at 3'x6′, but it is thicker to provide more cushioning for falls. It works best when used over the panel mat, and it can sit under a bar or be used on its own.
The last type of mat I will review today is the air floor, or air track. An air track is an air-filled tumbling mat that is easier on the gymnast's body that traditional mats. It is inflatable and portable, and can be used indoors or outdoors. The air track is a popular piece of home gymnastics equipment, but it can be expensive.
If you have the space and are debating what size to get, definitely go with a longer one so your gymnast will have more room to tumble. Check out this review of air tracks to determine which one is right for you. Here are links to a couple of their recommendations: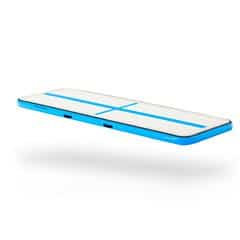 First, DGS has a 10′ or 16′ air floor in several different colors. It also includes a foot pump for easy inflation.
Next, the FBSport air track is a lower-priced option, which comes in several lengths. It ranges from 13 to 26 feet long. It gets great reviews from gymnasts!
Finally, the ibigbean Air Track comes in a variety of types of mats. The air track mat has options for either 16′ or 20′ lengths.
Home Gymnastics Beams
For younger gymnasts, foam beams are easiest to move and store. Some beams are foldable, for ease of storage. For older gymnasts, especially over 100 lbs, you will want a wood beam of some sort. Make sure to check the length of the beam, because home beams come in many different lengths. A standard beam in the gym is 16 feet, but home beams may be as short as 6 feet!
Here is an example of a folding beam by Z Athletics:
This beam comes in two lengths: 8 feet and 9 feet. The 9 foot length has two options: one with footprints and one without. It is a foam beam, which sits just 2 inches off the ground. Even beginning gymnasts will be able to use it easily, and it's also great for learning new skills and staying close to the ground. It comes in several colors so you can customize your new beam.
Here's another folding beam by Tumbl Trak:
This beam is 10 feet long, and also comes in multiple colors. It is a foam beam similar to the last one, and it folds in the middle for storage. It is also 2 inches tall. This is another great beginner beam, and can also be used for competitive gymnasts learning new skills or perfecting old ones. The big difference between this beam and the previous one is length: this beam is slightly longer. This is good if you need a little more length for practicing skills, but makes it a bit larger to store and use.
If you're looking for a wood beam, here's a great option from Resilite:
This is a wood beam with a suede cover, just like a competition beam. The standard beam is 8 feet long, and you can order a 4 foot extension (or two!) if you want a longer beam. This beam sits 6 inches high. It has no weight limit, so gymnasts of any size and level can use it for practice! The wood beam is not foldable, so it will take up more floor space in your house, but it is a great option if your gymnast prefers the feel of a "real" beam.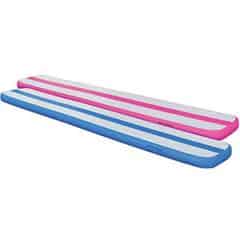 A newer option on the market is the Air Beam. The Air Beam is wider than a regular beam, with a raised stripe down the middle to simulate a regular beam. It is easier on the gymnast's body because of its air-filled center. There are several different companies that manufacture air beams, similar to the air tracks discussed above.
Home Gymnastics Bars
Bars can be a lot of fun for your gymnast at home, and they are offered in many different styles to suit the size and ability of the gymnast. 
Here is a beginner bar, manufactured by the Tumbl Trak company: 
This bar, with its base settings, is intended for gymnasts up to 75 lbs. If your gymnast weighs more than this, or if you'd like extra stability, you'll probably want to use the base extensions. The extensions increase the weight limit to 125 lbs. Even for smaller gymnasts, the extensions are a good idea because the bar will feel more stable when they are circling or dismounting.
Another option for a beginner bar is this expandable kip bar, from Z Athletics:
This bar is great for gymnasts up to 120 lbs, and does not need an extender kit as the company has lengthened the base legs to account for gymnasts as they grow.
Here is an outdoor bar option:
This bar is perfect if your gymnast is older or needs practice on swinging or other high bar skills. It needs to be installed outdoors, held in place with 200-220 pounds of concrete.
If you'd like to build your own floor bar, check out this link to a demo by Tom Forster, National High Performance Coordinator.
Want More Options?
Check out these posts which have even more ideas!
The Best Gymnastics Bars for Home
The Best Gymnastics Beams for Home
The Best Gymnastics Mats for Home
Great Gifts for Gymnasts and Coaches
Final Thoughts
If you're a gymnast who loves to do gymnastics every day, or the parent of one, you're in luck! There are many brands and types of home gymnastics equipment for a gymnast to use. You're sure to find an option that is a great fit for you! If you want some other fun ideas to do gymnastics at home, check out this post for 5 Fun Ways to Do Gymnastics At Home.