If you've been following gymnastics for a while, and even if you haven't, you've probably heard of the Magnificent Seven.
The Magnificent Seven is the nickname for the 1996 Olympic team. They were the first U.S. gymnastics team to win the team gold medal at the Olympics. The team consisted of Amanda Borden, Amy Chow, Dominique Dawes, Shannon Miller, Dominique Moceanu, Jaycie Phelps, and Kerri Strug. I remember watching that team final like it was yesterday, sitting on my parents' couch and cheering for Team USA to win the gold. 
Recently, I learned about a YouTube documentary that featured the team. Of course, I had to watch it to see what new information I could learn about them. It's not a new documentary, originally from 2012, but it's still fun to see footage of this team that made history for the United States!
Introductions
The very first thing we see at the beginning of the documentary is short clips of famous gymnasts falling spectacularly. Watching the first few minutes, I got the feeling that this video will be about the sacrifices and hardships the gymnasts went through on their way to achieving their goals. As I watched, I found that this is only one theme that is present.
Next, the documentary names the members of the Magnificent Seven (Mag 7), and talks about the diversity of the team. It then goes into a brief overview of the competition format, and of each of the apparatus. However, the information it gives is not necessarily accurate (i.e. bar routines do not consist of only 10 skills).
There are little snippets of interviews with the Mag 7 gymnasts as well as famous gymnasts from the past, such as Nadia and Mary Lou. Bela also gets his share of camera time. The history of gymnastics is also documented, showing the dominance of the Soviet team, then some individuals, such as Olga and Nadia.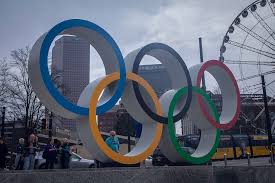 Magnificent Seven Background Info
We learn about the hometowns of each of the gymnasts, a little about their family and cultural background, and where they trained.
Dominique Dawes talked about waking up incredibly early for practice, and about how her mom sometimes didn't want to wake up and take her to practice. Dominique Moceanu told the famous story of her parents putting her on the clothesline at six months old, and she held on until the clothesline broke.
One gymnast whose story I didn't know as well was Jaycie Phelps. She describes leaving her home in Indiana, with her family, to train in Arizona. After training there, eventually she got burnt out and they all moved back to Indiana. She took some time completely off gymnastics, then began training again at Cincinnati Gymnastics Academy, where she trained when she made the Olympic team.
"Only one member of the Magnificent Seven grew up without an obsession with the sport." This statement was the introduction to the segment on Amy Chow. She reported trying a lot of sports when she was young, and eventually she settled on gymnastics. I don't agree that trying several other activities meant that she didn't have an obsession with gymnastics, though. In order to make it to the Olympics, a gymnast has to be obsessed with the sport!
Stories from Shannon Miller and Kerri Strug's training are noticeably absent.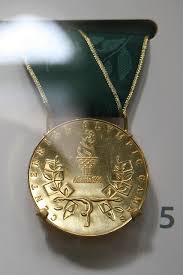 From Heartbreak to Triumph
Next comes a review of the 1992 Olympics and the medal winners. The U.S team won bronze in 1992, and the team featured three gymnasts who also made the 1996 team: Dominique Dawes, Shannon Miller, and Kerri Strug. The announcer states, "The most disappointed little girl in America (in 1992) may have been Amanda Borden." My first thought was, have you heard of Kim Kelly? I'm pretty sure she was the most disappointed in 1992. But, moving on….
Amanda Borden's interview was great, and I learned a lot about her. She talked about how she didn't feel like she was as good as the rest of the gymnasts on the team, and she was surprised to be named the team captain. I've always loved her optimism and positive attitude. She relates how she used her positivity to motivate her teammates and help keep them from being nervous.
There is also a discussion about the role of injuries. Basically, all Olympic gymnasts get injured at some point. It's important to mention it, though, because our eventual hero, Kerri Strug is injury-riddled throughout her career. Her injuries are one reason she was the underdog for so many years.
Controversial Topics
A couple of controversial topics are mentioned, but it felt like some of the details were left out. I got the feeling that the producers didn't want to delve too much into anything that might cause hard feelings.
First, there was discussion of Dominique Moceanu's rise to success, and then her court battles for legal emancipation from her parents. The reasons for her emancipation are not really discussed, though. Later, in her interview, she says that she has reconciled with her parents, and that their relationship is the best it's ever been.
One section of the documentary featured Bela, in particular how tough he was on the girls. We saw the video of Mary Lou falling off bars in practice and Bela making her get up, her mouth bleeding, and get back on the bars. Kerri said, "You go to him because he's gonna get you where you want to go, but, well, he's TOUGH." And you get the feeling she wanted to say something more, but she left it at that.
Random Thoughts
I loved seeing all of the photos and videos of the gymnasts from when they were young. And I think it's great that they all have videos of their early days in gymnastics – remember, they were in the Olympics in 1996, before cell phones were in everyone's hands. Most of those videos were probably taken on a giant video camera perched on a parent's shoulder!
The members of this Olympic team have always seemed close, and I get the impression that they truly like each other. Many of them expressed surprise and awe after winning the gold medal. Their humility sets a great example for gymnasts everywhere.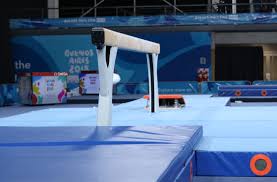 Magnificent Seven in the Olympics
The documentary only showed snippets of the competition, interwoven with interview segments. It focused on showing most of the U.S. vaults from the team competition. There are hit vaults from the first four gymnasts, then Moceanu falls. And she falls again. It's up to Kerri Strug. She runs for her first vault, and falls. Kerri talks about how she felt before her second vault. She knew her ankle was injured, but felt she had to go for it. She did her second vault, unsure what was wrong with her ankle, because she didn't want to have any regrets.
Watching the 1996 Olympics is always emotion-packed, and seeing the clips in this documentary was no different. It's hard to believe it's been all these years, and I still can't watch it without tearing up. Sports brings out such incredible courage, determination, and toughness in people. The timeless stories of triumph over adversity are inspiring, and I just can't get enough.
Want to see it for yourself? Here's the link for the Magnificent Seven Gymnastics Documentary.
Interested in more Olympic history? Check out A History of Olympic Gymnastics Team Finals!