Introduction to Home Gymnastics Beams
The funny thing about gymnasts is, once they've got the gymnastics bug, there's no stopping them from practicing. They'll somersault across the living room couch. Curbs suddenly become balance beams. In an effort to keep your gymnast safe, you might think about getting her some equipment to use at home.
If you're in the market for a new gymnastics beam for home, you're in the right place. There are several types of beams that your gymnast can use at home. Take a look below to see all the different types, and you can decide which one might be the best for you!
This post may contain affiliate links. As an Amazon Associate I earn from qualifying purchases.
Foam Beams For Home
Foam beams are often the first type of beam a gymnast gets for home. Foam beams are soft, light, and easy to move to a different spot in the house. Some of them fold up for easy storage. They come in different lengths, so be sure to get one that is long enough for your gymnast's needs.
Here is one of the highest-rated, least expensive foam beams. If you're on a budget, this may be the beam for you. This beam is 9′ long, which is a pretty standard size for a home foam beam. The beam is the standard 4″ wide, and it is 5″ off the floor. It folds in the middle for easy storage. It also comes in four different colors, so your gymnast can choose their favorite.
It's worth noting that this foam beam is not going to feel as firm as other beams. For younger kids, or for a gymnast wanting a soft surface, it will work great. If your gymnast wants the feel of a beam from the gym, look at some of the other options mentioned.
This folding foam beam is more expensive, but in this instance, you get what you pay for. It's got a more solid foam core, and won't squish as much when a gymnast stands on it. It is also 9′ long, and standard width. It only comes in purple.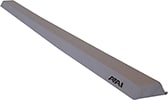 This foam beam is covered in suede, so it feels like a real beam. It's almost 9′ long, and it is the standard 4″ wide. This beam will also be more sturdy, and it's the most expensive of the foam beams because of the suede cover.
Floor Beams for Home
Floor beams for home are a step up from foam beams. They feel more like a "real" beam, and they are sturdier than their foam cousins. They are more space-consuming, as they are not foldable. If there's enough space in your house, these are a great option.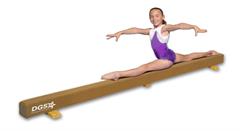 This low beam measures 6″ from the floor to the top of the beam. It is almost 8′ long. It is covered in suede, so it will feel just like the beams at the gym. It is lightweight and can be easily moved around the house.
This is a wood beam with a suede cover, just like a competition beam. The standard beam is 8 feet long, and you can order a 4 foot extension (or two!) if you want a longer beam. This beam sits 6 inches high. It has no weight limit, so gymnasts of any size and level can use it for practice! The wood beam is not foldable, so it will take up more floor space in your house, but it is a great option if your gymnast prefers the feel of a "real" beam.
This beam comes in different heights and lengths. The first option is an 8 foot floor beam without risers, which is not adjustable. The second option is a 12 foot sectional beam with risers. It's recommended to use additional risers (supports) if the gymnast is close to 90 lbs or more.
Laser Beam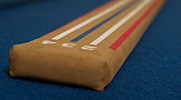 The laser beam is a newer type of beam that is used for training. It's wider than a typical beam (7″) and it has lines marked in different colors to help gymnasts with foot and hand positioning. It comes in two lengths: 16′ (standard balance beam length) and 8′ (if you don't have that much room in your house).
Air Beam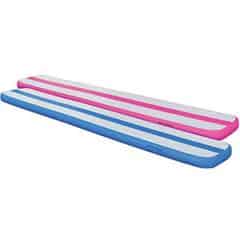 The air beam is a relatively new concept in balance beam training. Similar to the air floors that have become popular recently, the air beam is soft, filled with air, and perfect for training. It is 16″ wide and 9′ long, with a line down the middle to help the gymnast learn to perform her beam skills.
Adjustable Beams for Home
As gymnasts grow and learn new, complicated skills, they may want to practice skills at home on a higher beam. An adjustable beam for home is a great solution because it can help a gymnast transition from performing skills on a low beam to mastering them on a high beam.
This adjustable balance beam can be used as a low beam or it can raise to a height of 2′ if your gymnast is ready for more advanced practice. Make sure your ceiling is high enough if you plan to use this beam at its highest level! This beam has a built-in set of wheels to assist with moving it from one place to another.
Here's another adjustable beam that goes from floor beam up to 2′ high. This beam comes in multiple colors. It is a softer beam than your gymnast might use in the gym, so that could be good if they want a softer landing surface, or not as good if they prefer it to be similar to the beams in the gym.
Accessories
Your gymnast will probably want a mat to put underneath her beam, to cushion falls. Here is an example of a foldable mat to put underneath a balance beam for home.
The great thing about beam is that it doesn't usually require any other equipment. Beam shoes used to be popular, but they aren't used much any more. Most gymnasts work beam in bare feet. Some gymnasts may need wrist supports or ankle braces if they have had injuries. Always consult your medical professional if your gymnast is having pain.
Conclusion
As you can see, there are many types of beams for home. If your gymnast is small, you might prefer not to spend much money, and an inexpensive starter beam may be the right choice. If your gymnast is older, or is practicing more challenging skills, you'll probably want a beam that can grow with her and support her during higher level skills. It's not a one size fits all, so the right beam for you might be different than for someone else!
Articles to Improve Your Beam Routine
How to Perfect Your Level 2 Beam Routine
How to Perform the Best Level 3 Beam Routine
How to Perform the Best Level 4 Beam Routine
How to Perform the Best Level 5 Beam Routine
Making Sense of Composition: Level 8 Beam
Making Sense of Composition: Level 9 Beam
Making Sense of Composition: Level 10 Beam