This post was originally written September 13, 2020, and has been updated for 2021.
Gymnasts, do you need a fun holiday to help you celebrate your favorite sport? You're in luck! National Gymnastics Day is coming up. It's exactly what it sounds like – a holiday dedicated to gymnastics! What could be better than that?
In case you don't know much about this holiday, let's learn a little more about National Gymnastics Day. I just did a little research on it, and here's what I found out!
What is National Gymnastics Day?
This year, National Gymnastics Day will be celebrated on September 18, 2021. It is traditionally celebrated on the third Saturday in September. National Gymnastics Day was first observed in 1998. The holiday celebrates gymnasts and increases awareness of the sport. Last year, I wrote about 10 Reasons I Love Gymnastics, in celebration of National Gymnastics Day.
Gymnasts around the country celebrate National Gymnastics Day in a number of ways. For many gyms, this includes an in-gym celebration. However, you don't need to be at the gym to celebrate the holiday. Here are some fun ways to celebrate, both in the gym and out!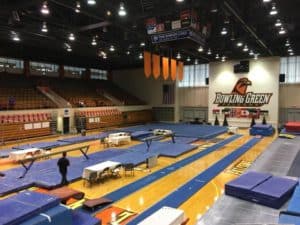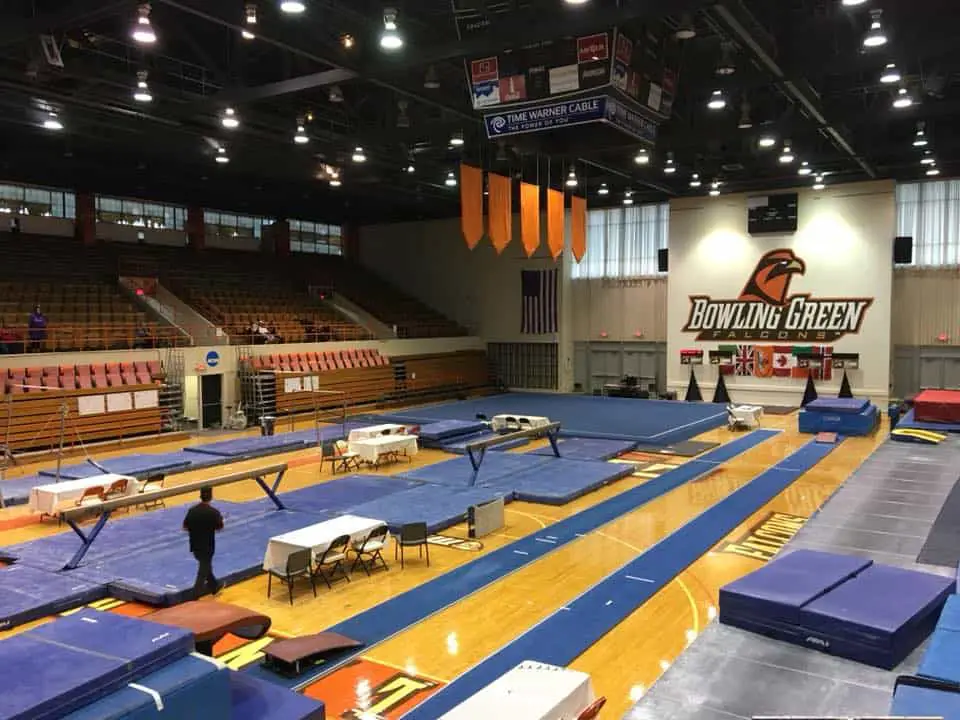 How to celebrate it at the gym
There are a ton of great ways to celebrate National Gymnastics Day at the gym. As I'm writing this post, we are still in the middle of the Covid-19 pandemic. (2021 edit: the pandemic is still ongoing. Different geographic areas may have different restrictions due to Covid-19.) For those gyms that are open, it may not be possible to do all of the activities that might traditionally occur in the gym. With a little creativity, though, there are a lot of fun things to do safely at the gym. Here are some activities that can be modified to meet social distancing requirements.
1. Handstand Contest
If you're in the gym, drop everything and have a handstand contest! You could have a contest within your group, or bring more than one group together. If your gym isn't open, have one on Zoom, and see who can stay up the longest!
2. Open House
Many gyms traditionally have open houses on National Gymnastics Day, to bring new gymnasts into their gym. An open house might not be possible this year, but instead, the gym could make an Open House video and post it on their website or social media page. Or they could offer grab-and-go goody bags with a coupon to try a free class or open gym. The possibilities are endless!
3. In-Gym Competition

September is a great time to get ready for those early-season meets. Have a practice meet in the gym, or just compete on one event if it isn't possible to do all 4. Have one level cheer another on to build teamwork between different levels. If you want your routines scored, bring a judge in, or have a virtual competition!
4. Play Gymnastics Games for the Day

Need some new ideas for gymnastics games? Check out these games. If that's not enough, here are some more games!

5. Extend the Celebration
Make it a week long celebration so that class kids can participate on the day they are in the gym!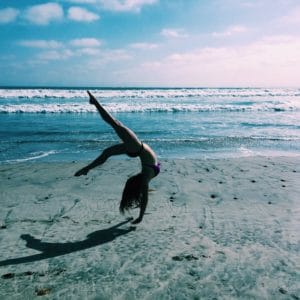 How to celebrate it at home
Some gymnasts might not be back in the gym yet due to the Covid-19 pandemic. Others might not have practice on Saturdays. Or maybe you just want to find a way to include your family and friends at home! No matter what the reason, it's a great idea to show your love for gymnastics while you're at home.
Remember, any time you do gymnastics at home, make sure you do it safely! Only perform skills you already know how to perform. Make sure you have proper matting if you'll be performing difficult skills. And don't try to spot your friends if you haven't been trained in how to do it.
Ok, we're all safe and ready – let's do some gymnastics at home!
1. Take a Video
There are different kinds of gymnastics videos you can make. You can have someone take a video of you doing one of your favorite skills. You can make a video to tell what you love about gymnastics. If you're an expert in something, you can even make a video showing how to do a gymnastics skill! You can post your videos on social media (with a parent's permission) and #NGD2020. Or you can just share them with your family and friends!

2. Handstand Contest
Challenge your siblings or neighbors to a handstand contest at home. Get creative: you can do wall handstands, walking handstands, static handstands, crazy legs, sing a song while you're upside down – you name it, you can try it!

3. Start a Gymnastics Journal
The folks over at Gymnastics HQ have a gymnastics journal that is over 100 pages long, and provides space for goal setting and mindset work, as well as a place to record meet scores. Grab one and start setting goals for this season today!

4. Home Gymnastics Practice
Practice your favorite skills (safely) at home. Do you have home gymnastics equipment (link), or do you tumble across the grass in the backyard? Either way can be a lot of fun and a great workout! I used to love doing back handsprings down the hill at my grandparents' house. I would get going so fast, I almost couldn't stop!
If you are in search of equipment for your home gymnastics practice, check out this Guide to Home Gymnastics Equipment.

5. Other Ways to Do Gymnastics at Home
Check out this post about 5 Fun Ways to Do Gymnastics at Home. Leave us a comment and let us know which one you tried!
There are a ton of things you can do on National Gymnastics Day, both in and out of the gym. Which ones were your favorite? Check out the below links for some more National Gymnastics Day resources!
National Gymnastics Day Resources
The Official National Gymnastics Day site
National Gymnastics Day Coloring Page – it's a few years old, because the current one seems to have disappeared from the internet!
Check out the gymnasts who will be answering questions on IG Live – see USAG's website for the schedule!
References
Gymnasticsday.com
https://nationaldaycalendar.com/national-gymnastics-day-third-saturday-in-september/