When gymnasts start to get ready for competition, there are a lot of new things to learn. New skills, new routines, new attire. One thing that can be confusing about the attire is gymnastics grips for bars. When does a gymnast need them? What are they used for? Which ones are the best?
Let's take a closer look at gymnastics grips and find the right ones for you!
This post may contain affiliate links. As an Amazon Associate I earn from qualifying purchases.
What are gymnastics grips used for?
Gymnastics grips are used by many gymnasts on the bars. The grips get their name because of their function. They are used to help gymnasts get a better grip on the bar. This is especially helpful as gymnasts begin to do bigger swinging skills on the high bar.
A common misconception is that grips will prevent your gymnast from getting rips. While they do offer a layer of protection, their primary function is NOT for rip prevention. If your gymnast gets a lot of rips, check out these specialized hand protection tape grips. They can help prevent rips, and also protect an already ripped hand. Definitely worth a try!
Sometimes, gymnasts will begin by using tape grips. Tape grips can help a gymnast to get the feel for beginner grips without committing to purchasing a pair. They can also help to prevent rips, and to protect the hands if the gymnast has already gotten a rip.
How to know if you need grips
First off, consult your coach! Each gym has different guidelines when deciding when gymnasts should start to wear grips. Your coach will be able to provide guidance on the right type of grips for your level and needs.
Many gymnasts start to wear grips once they are swinging on the high bar more frequently. If you are competing a routine that involves high bar work, grips may help to prevent slipping off the bar ("peeling").
Some gymnasts choose to wear beginner grips if they get frequent rips, or simply because they like the feel of them.
If your coach agrees that grips would be helpful for you, keep reading to learn more about the different types of grips.
What are the different kinds of grips?
Beginner Grips
As the name suggests, beginner grips are used by gymnasts who are just starting to wear grips. These grips are short, and come from the wrist over the palm of the hand. They do not cover the fingers. There are two finger holes at the ends of these grips. The middle and ring fingers are placed through the holes. The grips are made of leather, and have either velcro or buckle fasteners.
Often, beginner grips are used to help gymnasts keep from getting rips on their hands once they are training more hours on bars. It's common for a gymnast to start using them after they start training on a team or preteam.
Another reason gymnasts might start to wear beginner grips is to help their hands get used to the feeling of wearing grips. Many gymnasts end up wearing dowel grips once they are performing more skills on the high bar, and using beginner grips can help the gymnast's hands get used to the feeling.
Dowel Grips
Dowel grips get their name because of the small dowel rod that is placed toward the fingertips. The dowel helps the gymnast to hold onto the bar as she learns more advanced skills.
Dowel grips come in different shapes and types. Some styles are slender, to fit gymnasts with smaller hands. Some are wider, if the gymnast wants more coverage.
Just like the beginner grips, the gymnast has the option of choosing velcro straps or buckle straps. The buckles feel more secure to some gymnasts, while the velcro allows for more customization of the wrist size.
Dowel grips usually require more time to break in, meaning that the gymnast will not be able to use them in competition right away. She should bring them to practice and practice basic swinging moves first, before attempting any difficult skills. Your coach will help you to break in your new grips.
Which gymnastics grips should I buy?
Below are several gymnast-tested examples of gymnastics grips that you can purchase.
Beginner Grips
The Gibson rainbow palm grips come in several different colors and sizes. These grips are ideal for the gymnast who is just beginning to use grips. They come over the gymnast's palm and do not cover the fingers. These grips come with small finger holes, which will need to be sanded if the gymnast's fingers are larger than the holes.
The Nastia Liukin beginner grips have a more slender profile, so they may be a better fit for a gymnast with narrow palms. Similar to the Gibson grips, they come in different sizes and fit over the gymnast's palm. These are also intended for gymnasts who are just beginning to use grips.
Dowel Grips
There are several varieties of dowel grips, made to fit different sizes of hands and wrists. Here are a few fan favorites!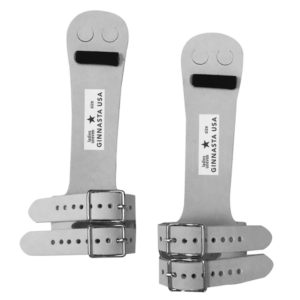 Ginnasta USA has fantastic dowel grips, because the leather is pre-stretched. This significantly reduces break-in time, and many gymnasts say their grips didn't need to be broken in at all! Their dowel grips come in narrow width and regular width, and they have options for velcro, single buckle, and double buckle.
A great beginner grip is the Bailie beginner grip, available in both buckle and velcro closures. These grips have a curved leather, and they are a bit narrower and smaller than some other brands. They are also relatively easy to break in.
Reisport grips are one of the most well-known brands of gymnastics grips, and they have been around for decades. These grips have a thicker leather and may take longer to break in, but they are a sturdy and strong grip with a good reputation.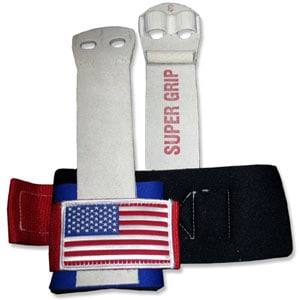 Super grips have a built-in wristband, so wristbands are not necessary with this style of grips. They also have an elastic "finger-locking" system which can provide security for a gymnast who is concerned her fingers may slip out of her grips.
Accessories
Wristbands are necessary to wear under gymnastics grips, to prevent rips and blisters on the wrists. These wristbands are 4″ long and come in multiple colors to suit your preferences.
Here's a set of longer wristbands (5″), also in multiple colors, which can be helpful especially for gymnasts who are using double buckle grips.
If your gymnast gets a lot of rips on her wrists, or prefers a sturdier wristband, try these from Catchies. They're pricier than regular wristbands, but they are much more protective without feeling bulky!
As another alternative, some gymnasts like to wear pre-wrap around their wrists. It can either be worn alone, or in combination with wristbands for a thicker cushion. It's also available in rainbow colors, if your gymnast wants to match her grips or wear different colors on different days!
Some gymnasts like to use athletic tape, either under their grips, or under their wristbands. Athletic tape can be bought by the roll or in bulk.
Athletic tape can also be used to make a tape grip. Tape grips are great for gymnasts who have gotten a rip, but aren't ready to invest in a pair of grips yet. Check out the video on how to make an EASY tape grip!
If you don't want to bother making your own tape grip, check out these pre-made ones from WOD&DONE. The adhesive is long lasting, and many gymnasts say that they really help protect their hands on the bars!
Further Reading
Here are some more articles you may be interested in, featuring other gymnastics equipment to use at home, and all levels of compulsory and Xcel bars!
Home Gymnastics Equipment You Need to Have
How to Perfect Your Level 3 Bar Routine
How to Perfect Your Level 4 Bar Routine
Maximizing Your Level 5 Bar Routine
Xcel Bars: Bronze, Silver, and Gold