This post has been updated to reflect the changes in the 2022-26 Xcel Code of Points.
What's the best way to get my Xcel Platinum bars score up? How about Xcel Diamond? There are many more considerations in these divisions, compared with Bronze, Silver, and Gold. And of course, there are intricacies specific to each division. Between general form work and a knowledge of these specific rules, you'll see improvements in no time! 
Xcel Platinum and Diamond are the highest-level divisions in the Xcel program. Their routine composition is the closest to the J.O. Program. Both of them have requirements for both "A" and "B" valued skills, as well as four Special Requirements in the routine. These divisions are exciting, because the skill level increases significantly compared to the lower levels!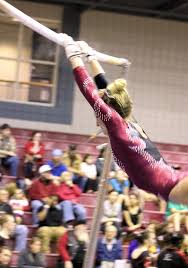 Xcel Platinum Bars
Xcel Platinum bar routines must have 6 "A" skills and 1 "B" skill to receive full credit for Value Part elements. "A" skills are worth 0.10, and "B" skills are worth 0.30. If the gymnast is missing any of these Value Parts, she loses the corresponding points off her Start Value. Special Requirements are worth 0.50, so if any are missing, the routine receives a 0.50 deduction off the Start Value. The other deduction that comes off the Start Value is the deduction for performing a restricted skill. If a gymnast performs a restricted skill at her level, she gets a 0.50 deduction off the Start Value.
Here's an example. Let's say that the gymnast is performing an Xcel Platinum bar routine. She has 5 "A" skills, 1 "B" skill, and 1 restricted "C" skill in her routine, and she meets all of her Special Requirements. She loses 0.10 for the missing "A", and 0.50 for the restricted "C", resulting in a Start Value of 9.4.
Special Requirements
A skill finishing in a clear support above horizontal (not mount or dismount)
360° circling skill (not mount or dismount)
Kip
Dismount from high bar
Difficulty Restrictions
Exceptions to Difficulty Restrictions
Clear hip to handstand = C (receives "B" credit)
Stalder to handstand = C (receives "B" credit)
Sole circle to handstand = C (receives "B" credit)
Considerations for Xcel Platinum Bars
The Xcel Platinum bars Special Requirement that is typically the hardest to meet is the skill finishing above horizontal. This skill could be a cast or a circling skill, and only one skill needs to be completed to this degree in order to fulfill the Special Requirement. In order to receive "A" value, any Platinum cast must be within 10° of the requirement. This means that a cast 9° below horizontal, or higher, will receive "A" credit.
The same angle principles apply to Platinum as to all other divisions and levels. The angle of the cast or circling skill is taken by drawing an imaginary line from the shoulders to the lowest body part. If the gymnast is piked, the line is drawn from the shoulders to the feet. If she is arched, the line is drawn from the shoulders to the belly. A gymnast performing a straight body cast will have the line drawn straight down the length of her body.
If the gymnast is trying to finish a clear hip above horizontal, she must shift her wrists while her body is still above horizontal. Amplitude deductions (up to 0.40) for clear hip circles apply in the Platinum division.
Platinum is the first division in which judges can apply deductions for extra swings. Platinum gymnasts can perform one tap swing OR underswing/counterswing for "A" credit. Any additional tap swings will be subject to the 0.30 extra swing deduction. Extra swing deductions will also be taken if the gymnast stops and performs an extra pump of the legs into a cast.
The final Xcel Platinum consideration is that a long hang pullover is only considered a circling skill if it comes from a cast. Jump off the low bar into a long hang pullover does not count for the circling skill requirement.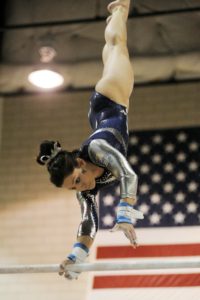 Xcel Diamond Bars
Xcel Diamond bar routines must include 2 "B" skills and 5 "A" skills to start from a 10.0. Good news – if all of the Special Requirements are met, the routine automatically has its two "B" skills! Just like in a Platinum bar routine, "A" skills are worth 0.10, and "B" skills are worth 0.30.
The Special Requirements in the Diamond division are a combination of the Level 7 and 8 requirements from the J.O. Program. Of course, gymnasts are welcome to compete more difficult skills if they are capable, and I have seem some beautiful, difficult Diamond routines! There is no reward for performing a higher level of difficulty, though, and there are no composition deductions in any Xcel division. The best bet is always to include the skills that fulfill the requirements while incurring the least amount of deductions.
Special Requirements
Skill finishing in a clear support at minimum 45° from vertical (not mount or dismount)
Minimum "B" 360° circling skill
Minimum "B" skill – release, pirouette, or 2nd 360° circling skill (can be same as or different from 1st circling skill)
Salto or hecht dismount from high bar, or any dismount from high bar (min. "B")
Difficulty Restrictions
Maximum of 1 "D" element
NO "E" elements
Considerations for Xcel Diamond Bars
In the Diamond division, tap swings do not receive Value Part credit. Any tap swing or underswing/counterswing that is performed in the Diamond division is considered an extra swing. If a cast returns to front support, this is also an extra swing.
Clear hip circles will get deductions for amplitude (up to 0.40) in Diamond, just as they did in Platinum.
The Diamond division of Xcel is the closest to the J.O. levels. Most of these considerations are the same as J.O. rules. The only element that is different is the cast. Casts at or above 55° from vertical receive "A" Value Part credit in the Diamond division (casts within 10° of the division's requirement). Despite the increased requirements elsewhere, there are still no cast angle deductions in Diamond, just like all of the other Xcel divisions.
Minimizing Execution Deductions
At all Xcel divisions, form and execution are extremely important. Platinum and Diamond are no exception. Skills should be performed with straight arms and legs. Gymnasts should maintain a straight-hollow body position, except during swinging elements when a tight arch is acceptable to generate the "tap". Feet should be pointed with legs together. Dismounts should land with the chest up, and feet hip-width or closer together.
These deductions, while sometimes small on their own, can really add up. Let's say that a gymnast bends her knees and arms for 0.10 each, on each of her 7 skills. That quickly adds up to 1.4 in deductions – almost the same as three falls! Consistent work on form and body position will really pay off when trying to avoid deductions in all of those areas.
Want to Learn More?
Here are some other articles that relate to Xcel gymnastics:
Xcel Vault: What You Should Know
Xcel Bars: Bronze, Silver, and Gold
Did you grab your FREE Goal Setting Workbook yet? Click here to download it!
References
USA Gymnastics Xcel Code of Points, 2022-2026.