This post may contain affiliate links. This means that if you click through and make a purchase, I earn a small commission at no cost to you. As an Amazon Associate I earn from qualifying purchases.
It's the holiday season, and you need ideas for the best gifts for gymnasts this year. Or, she has a birthday coming up, but she's the type of kid that already "has everything". What's a mom to do? Look no further! This post will get you started with gymnastics gift ideas for even the pickiest gymnast.
And don't worry – there are some ideas to shop for yourself too, and also some gift ideas for gymnastics coaches to get you started.
Gifts for Gymnasts to Use in the Gym
The most obvious gifts for gymnasts are ones that they can use in the gym. Those can include leotards, practice shorts, grips (along with gymnast accessories such as wristbands and grip bags), water bottles, and of course, a gymnastics gym bag to hold everything.
Leotards
Every gymnast loves to show off their personality through their leotards. Check these out:
this leotard, which has options for shiny colors, rainbows, and even a donut print!
Shorts
Super cute sparkly shorts go with any leotard for practice! Here's another pair of sparkly shorts that comes in several colors. Gymnast not into sparkles? Check out these pairs that come in a number of non-sparkly colors.
Grips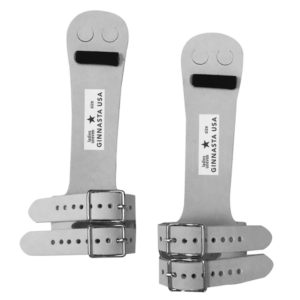 Here's a pair of Ginnasta USA grips, which are fantastic because they don't require any break-in time, and they are very comfortable.
Looking for grips for a beginner gymnast? Here's a good pair of beginner grips, which are smaller and don't have a dowel. For more options, check out The Ultimate Guide to Gymnastics Grips.
Wristbands
It doesn't take long for wristbands to get sweaty and gross, which makes them a great small gift! Check out these 4-inch and 6-inch wristbands in a bunch of fun colors. If you need multiple pairs, this set of 10 pairs is a great deal!
Grip bags
This pretty ombre grip bag can be personalized with your gymnast's name!
Who wouldn't want a patriotic Simone Biles grip bag?
This galaxy-style grip bag is stylish and waterproof.
Gym bags
There are a couple of different gym bag styles: duffel style and backpack style.
This gymnastics duffel comes with multiple pockets to hold small items, shoes, and any other necessities. If you're looking for a bag with personalization options, here's a good option.
If you're looking for a backpack-style gym bag, here's a great gymnastics-themed bag. I also liked the Eat, Sleep, Gymnastics bag which goes with the t-shirt mentioned below.
Water bottles
Stainless water bottles are my favorite, because they keep the water cold for so long. Here's a great one that comes in any color your gymnast might want!
If your gymnast prefers plastic, here's a BPA-free plastic water bottle that comes in lots of different colors. It also comes in three sizes, for any gymnast's needs.
Gifts for Gymnasts for Home Gymnastics Practice
The next type of gymnast gifts are different types of equipment that gymnasts can use to practice at home.
For a complete list of home equipment, read this Guide to Home Gymnastics Equipment. Here are some pieces of basic equipment your gymnast will love to use for her home practice!
Bars
Here is an example of a beginner bar that your gymnast can use to build her strength and swing.
Beams
A folding beam like this one is a great space-saving way to work on beam skills at home.
Mats
A panel mat like this one provides a great, safe place for your gymnast to practice her skills at home.
If your gymnast needs to practice bigger skills with a soft surface, check out the Air Floor! These are super popular gymnastics gifts, and easy to move for storage.
Resistance Bands
This complete resistance band set is a great deal, and comes with handles and door anchors. Alternatively, resistance loops have many different uses and are great for your gymnast to build strength.
Gymnastics Apparel
Another great gift for gymnasts is something to wear over their leotards, or to lounge around in while they're not at practice!
T shirts
Handstand Shirt: Designed to be read only when the gymnast is in her usual position!
Why Walk When You Can Cartwheel; Great for the gymnast who NEVER seems to stop flipping!
Eat. Sleep. Gymnastics. Add in a little homework and, yeah, pretty accurate!
Other Apparel
For gymnasts who love accessories, these gymnastics gifts are perfect additions to their collection!
Gymnastics hair ties: These no-crease hair ties are super cute and perfect for any gymnast who wants to add a little style to her hairdo.
Gymnastics Headbands: These are similar to the hair ties, for a coordinated look. There's also a personalized headband option, and a set of three jeweled gymnast headbands for some variety.
Gymnastics bracelets:
The Alex and Ani bracelets are always popular, and this one has a gymnastics charm.
Another, less pricey, option is this gymnastics bangle bracelet.
Here's a really cute motivational gymnastics bracelet, for that gymnast that needs a little extra confidence boost.
Gymnastics pins: There's one for every level your gymnast competes in! Collect them all! Here are links to each level's pin:
Gymnastics Books
Perfect Balance gymnastics book series by Melisa Torres – a series of books about a gymnast who is training for competition, and the struggles she faces.
American Girl – McKenna, Ready to Fly! by Mary Casanova – McKenna is about to get her cast off, and she's preparing for tryouts for the gymnastics team.
She's Got This by Laurie Hernandez – a story about a girl who dreams of becoming a gymnast.
Courage to Soar by Simone Biles – an autobiography of the world's greatest gymnast.
Other Gifts for Gymnasts
Medal Holder
If you have a gymnast whose medals are threatening to overtake her bedroom, here's a great gift idea! This medal holder will keep everything organized and looking great. I also love this medal holder which displays the saying "She believed she could, so she did". This medal holder also comes with a trophy shelf above.
Gymnastics Scorebook
This gymnastics scorebook helps your gymnast to track her scores from meet to meet, along with logging what she did well and what she wants to work on. Great for goal setting and score tracking!
Want a personalized gymnastics scorebook? Check out this one, which allows you to add the gymnast's name and team to the cover!
Gymnast Barbie
I had a gymnastics Barbie as a child, and I remember playing with it for LONG after it was cool to play with Barbies. I used to make up routines for Barbie and then judge the routines (I guess I always wanted to be a judge!). This gymnastics Barbie will be hours of fun for your gymnast!
Gymnastics Phone Case
Gymnasts who have their own phone will love to personalize it with a gymnastics-themed phone case! Here are some cases for different models of phones:
Galaxy Nebula case for iPhone SE/7/8
iPhone 7/8 gymnast case and sunset gymnast case
Gymnastics Night Light
This color-changing gymnastics night light is always a fun addition to your gymnast's room, or even in the hallway for middle-of-the-night drinks of water!
Gymnastics Coloring and Activity Book
This activity book will entertain your young gymnast for hours! Great for long car rides to practice or meets.
Small Gifts for Gymnasts
Gymnastics Photo Frame

This gymnastics photo frame provides a great spot to display a team photo, or a pic with a gym bestie!

A cartwheel ornament is the perfect addition to any gymnast's Christmas tree.

This grip keychain is perfect for your gymnast's gym bag, and it can also work as a zipper pull!
Gifts for Gymnastics Coaches
Travel Mug
This 20 oz stainless steel mug is a great gift for your gymnast's "Best Coach Ever"!
If your coach needs more than 20 oz of coffee, grab this 30 oz stainless steel tumbler and make their day!
Photo Frame
Say thank you to a great coach with a personal photo in this coach frame!
Ornament
Gift your coach this beautiful engraved wood ornament telling them how great they are!
This silver charm ornament is a gorgeous gift for gymnastics coaches.
Another great ornament choice: "I Coach Gymnastics. What's Your Superpower?"
Subscription Box
What does your coach like to do in her free time? Here are some ideas for subscription boxes:
Gifts for Gym Moms
Don't forget something for yourself! Gym moms are busy, with all the driving to and from the gym and meets. Especially if you have multiple kids, you need things that will make your life easier. As a busy mom myself, here are some of my faves:
Dinner Helpers
Ninja Foodi: Hands down my FAVORITE kitchen appliance! I own an older version of this system, the Ninja Cooking System, which is a 4-in-1 slow cooker/stovetop/oven/buffet. It is amazing because you can sear meat in the pot, then pour your broth in and turn it to slow cooker mode! As someone who HATES doing dishes, this is a time saver for cooking AND cleaning! I'm putting this one on my list!
Instant Pot: The super-popular, time saving pressure cooker! There are several sizes and models to pick from, but you can't go wrong with the classic 6-quart model.
Water bottles
I'm always sipping on the go, and I find that I drink more water in my car than anywhere else. Here are a couple of options to help you get those ounces in!
This stainless water bottle will keep your drink cold for hours, and it has a straw top to make sipping easy!
This leakproof water bottle comes in a ton of colors and offers motivational sayings to help you drink it all.
This fruit infuser water bottle is perfect if you hate the taste of plain water, and need a little sweetness to make it easy to drink.
E-reader
I'm a huge fan of the plain, old-school Kindle for reading, because it gets me away from the blue light that follows me all day long. It's very easy to read on it, and it stays charged for long periods.
If you're looking for something more sophisticated, check out the Fire HD tablet. There are several different models and colors, with varying amounts of storage depending on your needs.
Fitness Watch
Do you ever wonder how many steps you get while pacing at a meet waiting for your gymnast to perform? Or maybe you're looking for an easy way to track exercise, sleep, or meditation. Here are some great options for fitness watches:
The Apple Watch is by far my favorite of the watches I've tried. Yes, it's more expensive, but it is worth it! Not only does it track your steps, active calories burned, exercise minutes, standing time, and heart rate, but it also coordinates with most of your apps. I love that I can start and stop a podcast from my watch (usually to answer a question from one of my kids) even when my phone isn't nearby. It's also really easy to send off a quick text. The only downside of the Apple watch is that it needs to charge almost every day, similar to a smartphone. I haven't had much of a problem finding time to charge it, though.
The Fitbit is another great fitness watch, with a much lower price tag. The Charge, pictured here, is the model I personally used and loved before I got my Apple watch. The Fitbit is the best at tracking steps, and it even counts steps taken while pushing a stroller or lawn mower.
Garmin has a similar fitness watch at a lower price point. It has all of the basics that a casual exerciser would need. When I used to have a Garmin watch, it was great because it stayed charged forever! It wasn't the best at tracking steps, but the newer models seem to be better in that regard. And compared to the price of other watches, this one can't be beat!
There are so many great options out there! Happy shopping!
After browsing through, I'm sure you'll find the perfect gymnast gift out there!