This post may contain affiliate links. This means that if you click on a link and make a purchase, I earn a small commission at no cost to you. As an Amazon Associate I earn from qualifying purchases.
Are you looking for personalized gymnast gifts this year? You're in luck! There are some really cool personalized gifts for gymnasts out there.
Types of Personalized Gymnast Gifts
There are many types of personalized gymnast gifts to choose from – it can get a little overwhelming! Not to worry! I've sorted through and found the best, most original personalized gifts for gymnasts.
Most of us have seen gymnasts walking around with personalized bags or keychains. But did you know that there are many other types of gifts that can be personalized? Let's take a look at the top 10 personalized gymnast gifts!
1. Personalized Gymnastics Gym Bags
This is probably the most commonly personalized item. But it's always nice to have a personalized gym bag so your gymnast never takes home the wrong one! Here are a few great finds in different styles.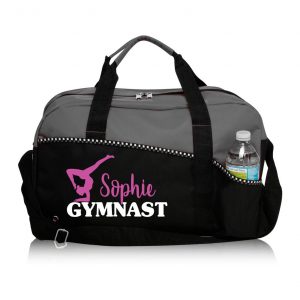 This gymnastics duffel bag has plenty of room for all of your gymnast's essentials, including a water bottle holder, which can be tough to find on a duffel bag! You can choose the color for the gymnast and the letters, as well as choose between four colors for the bag itself.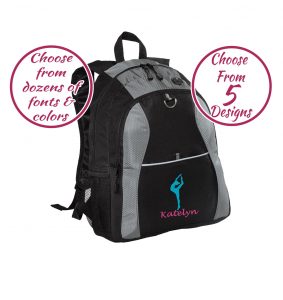 If your gymnast prefers a backpack-style gym bag, this one is perfect for her. It comes in several different colors, and you can choose the fonts and colors of the writing as well. It includes a water bottle side pocket, as well as an interior organizer.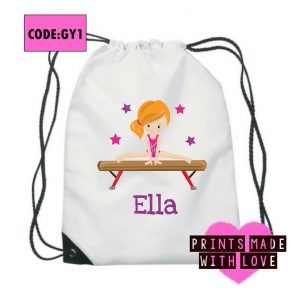 Finally, here's an inexpensive personalized drawstring bag option. This is great for a gymnast who doesn't have much equipment to lug back and forth, or just needs an extra bag to bring to other places besides the gym. (Wait, gymnasts have a life outside of gymnastics???) There are 10 options of pictures to choose from.
2. Personalized Gymnastics Jewelry
Here's a great gymnast-themed bracelet, personalized with your gymnast's name, birthstone, and a gymnastics charm. Perfect gift for a gymnast who loves to add her own personal style to her outfits!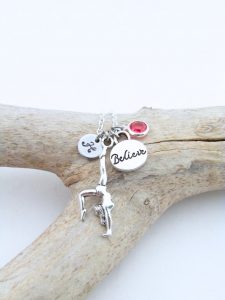 If your gymnast is more of a necklace girl, or wants something to go with her bracelet, check out this personalized gymnast necklace. It also includes a birthstone and a gymnast charm, and it is 18″ long.
3. Gymnastics Blankets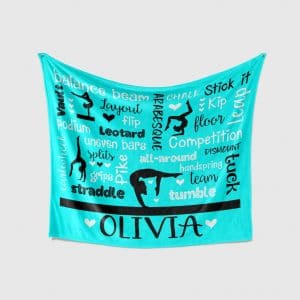 This one-of-a-kind personalized gymnastics blanket makes the perfect gift to keep your gymnast warm! It's great to use on chilly concrete floors at a meet, or just to curl up for family movie night!
4. Personalized Leotards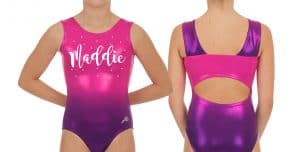 You don't see personalized leotards often, so if your gymnast likes to wear something unique to practice, this would make a great gymnast gift! I love the ombre design, and the Swarovski crystals add some sparkle.
5. Personalized Gymnastics Slides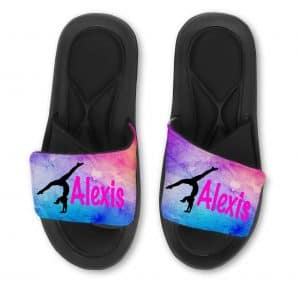 These gymnast slides are perfect for wearing to meets, or just to run in and out of the gym for practice. Bonus – your gymnast will never mix them up with her teammates, since they have her name on them!
6. Personalized Water Bottles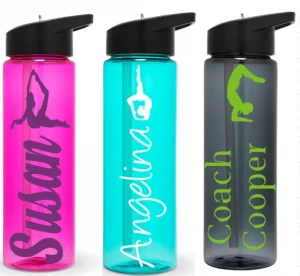 These personalized water bottles come in several colors and styles. It holds 24 ounces of liquid. You can choose your own design, name, and font to match your preferences!
If you're looking for a metal water bottle, check out this white aluminum water bottle. It holds 22 ounces, has a straw lid, and can also be personalized with name, date, design, and custom font.
Here's another white water bottle, but this one can be personalized with super cute colored gymnast designs to truly customize it! It holds 20 ounces of liquid and has an easy-close top.
7. Personalized Gymnastics Scorebook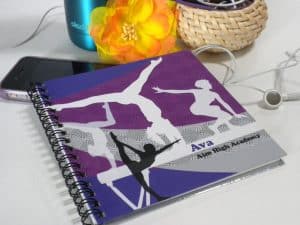 Does your gymnast like to track her scores from meet to meet? She'll love this personalized gymnastics scorebook! Great for setting goals and tracking scores, and it's the perfect size to fit in a gym bag!
8. Gymnastics Wall Art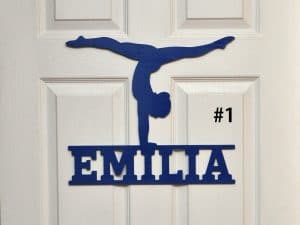 This one-of-a-kind piece of wall art will jazz up your gymnast's bedroom wall or door in one easy step. What a fun way to add personality to her room! This is one of my favorite personalized gymnast gifts.
9. Personalized Gymnastics Medal Holder
There are a number of different options to choose from when it comes to finding a medal holder for your gymnast. All of the below options are personalizable and can hold multiple medals.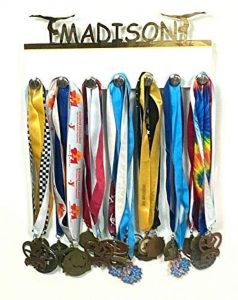 This personalized medal holder can hold at least 60 medals, ribbons, and awards. It is a white holder with the design and name on top, and several hooks to hold medals. This type of holder allows for the medals to be removed easily if your gymnast likes to take them out and look at them.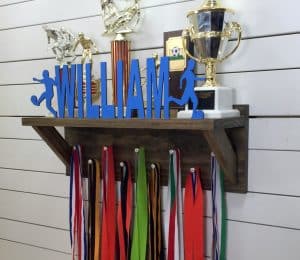 This medal holder includes a trophy shelf, so trophies can be displayed as well as medals. It's a bit pricier because of the shelf, but if your gymnast tends to attend meets that give out trophies, it is well worth it! The photo doesn't show a gymnast on it, but the personalization allows for many sports, including boys' and girls' gymnastics, along with rhythmic gymnastics.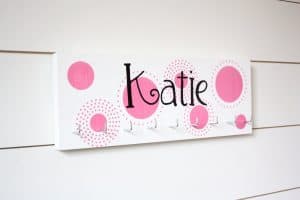 Another great option for gymnasts who love polka dots is this polka dot medal holder. The polka dots come in a ton of color options, and you can get it to match your gymnast's room decor! Perfect for the gymnast who likes a little pizzazz.
10. Gymnastics Night Light
This gymnastics night light can be personalized with your gymnast's name, and will keep her from getting scared at night. It has multicolored LED lights, and even a remote control so she can operate it from her bed!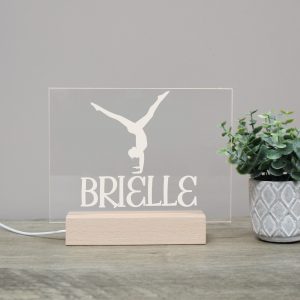 Looking for a night light that has white light? This personalized gymnast night light has white LED light to illuminate the gymnast silhouette, along with your gymnast's name.
These are some of the most popular personalized gymnast gifts, but I'm sure there are more great ones out there! Drop me a comment if you've found something else that your gymnast loved!
Further Reading
The Best Gifts for Gymnasts (and Coaches!)