The world of competitive gymnastics, especially for new gymnasts, can be hard to navigate. There are so many little details to think about! How should their hair be done? What sort of underwear works best under a competition leotard? Keep reading to learn what every gymnast needs for competition. (And then pick and choose the ones that apply to you!)
Hair Supplies for Gymnasts
A very common question is how to put a gymnast's hair up during a meet, and how to keep the hair from coming loose.
Here are some products that will help with both of these problems!
This bun maker will create a perfect bun shape every time!
Spin pins are a great tool for pinning a bun into place. So much easier and more secure than bobby pins!
Got2B Glued hair gel is a must-have for keeping a hairstyle in throughout a meet! You can even do your gymnast's hair the night before (for those early-morning report times) and it will stay in just fine. Sometimes this goes out of stock, but there are other options for different numbers of bottles that you can pick instead.
Got2B Glued hairspray is a great way to be double sure that hair is staying up! You can either add it to the gel, or use it on its own depending on your preference.
Undergarments for Gymnastics Meets
Did you know that gymnasts can get an incorrect attire deduction if their underwear or sports bra shows? This is one deduction that I think is ridiculous, but as long as it still exists, I want to help gymnast avoid it as much as possible!
Here are some products that can help:
Underwear that doesn't show under a leotard
Here are a few options for underwear/briefs that will provide coverage without showing! Remember: if underwear shows (except for unintentionally during movement), the gymnast may receive a deduction.
This Amazon Essentials underwear comes in a pack of 6. It comes in several colors, and some of the packs have more than one color (i.e. black and nude). If the underwear is nude, or matches the bottom color of the leotard, there is less of a chance that it will be seen.
This underwear by iMucci comes in a 3-pack of nude underwear. It's got a lot of positive reviews from gymnasts for its great fit and feel!
One more option for comfortable, no-show underwear! This Molldan 2-pack of nude briefs is another best seller with a ton of positive reviews by gymnasts.
Bras to fit under a leotard
This Capezio bra has clear straps, so nothing will show! It also has a wide area between the straps, which works well with leotards that dip down in the back. It does not offer a lot of support, so steer clear if you are looking for a supportive bra.
This bra by iMucci also has clear straps, and the gymnast testers reported the straps to be very comfortable! It also works well with leotards that dip down in the back.
Need more support? Check out Little Stars Gymnastics, which has a line of sports bras that offer support along with invisibility.
Gymnastics Meet Journals and Planners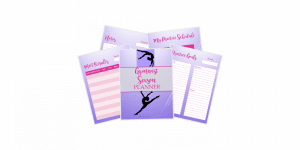 If your gymnast is looking for a planner for her gymnastics season, here is The Gymnastics Guide's digital Gymnast Season Planner, complete with sections for meet scores, goal setting, and home practice/conditioning.
This gymnastics competition journal provides places for self reflection and goal setting, and can be used for up to 50 meets! She also has practice journals available, with goal setting and reflection pages to be used during practice. Super helpful and action oriented!
Do you have a favorite product that has helped your gymnast during her meets? Share it in the comments!
Further Reading
Home Gymnastics Equipment You Need to Have
The Best Gifts for Gymnasts (and Coaches!)
10 Amazing Personalized Gymnastics Gifts